What is Hazmat University?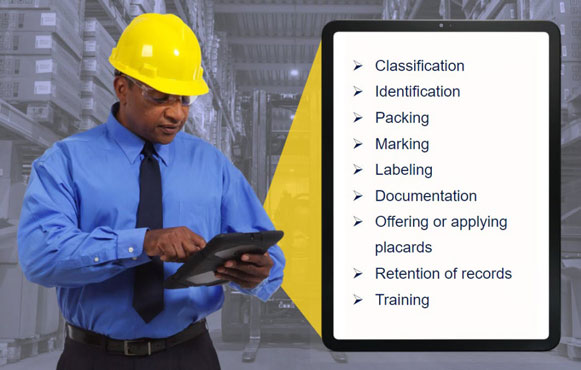 Hazmat University is industry-leading online hazardous materials training developed and offered by the Bureau of Dangerous Goods to provide its quality hazmat training courses worldwide via the Internet. Enjoy the same level of world-class online hazmat training in an engaging and dynamic format that is convenient and easy-to-use.
Hazmat University provides mode-specific and multimodal courses covering the requirements for dangerous goods shipments offered for ground, air, and vessel transportation. From comprehensive courses covering the prescribed regulatory requirements to specific courses for subjects such as lithium batteries and dangerous goods in limited quantities, Hazmat University has you covered. Using the most up-to-date technology, Hazmat University has made online hazmat training more participatory and enriching. Whether you are looking for initial or recurrent hazmat training, Hazmat University's dynamic courses make the certification process more engaging, interesting, and easier than ever!
All Hazmat University courses are designed to be fully compliant with U.S. Department of Transportation hazardous materials regulations found in Title 49 of the U.S. Code of Federal Regulations (49 CFR), as well as the international regulations for shipping dangerous goods by air (IATA/ICAO) and by vessel (IMDG).
Unlike the traditional static online learning and training programs for hazardous materials shipping which might prove to be tiresome and tedious for students, a dynamic learning experience makes the same training more interactive and easier to accomplish with a more robust command of the concepts.
Which Hazardous Materials Courses are Available with Hazmat University?
Hazmat University offers a full suite of hazardous material handling and shipping training, regardless of the mode of transport. Whether you're looking for training for your hazmat employees who ship by air, by ground, or by ocean, Hazmat University has a course to fulfill your training requirements. You can choose from any of the following courses:
IATA (ICAO) Shipping by Air
49 CFR (DOT) Shipping by Ground
IMDG (IMO) Shipping by Vessel
Multimodal Training
Lithium Batteries Training
General Awareness and Recognition Training
The handling and shipping of hazardous materials is a critical task in our global economy, and that's why properly trained hazmat employees should be a top priority for your business. With Hazmat University's easy-to-access online courses, your hazmat employees will be trained in the prescribed regulations to perform their job functions with confidence, competence, and compliance.
How Does Hazmat University Work?
Simply purchase any course through our online store. You will receive an e-mail confirmation of your purchase with an enrollment key and instructions. Then, just follow the instructions, and you're ready to begin your online hazmat training.
Please call (844) 532-7634 or (609) 860-0300 to speak with one of our friendly, courteous, and knowledgeable staff members at the Bureau of Dangerous Goods and ask about our online hazmat training solutions.