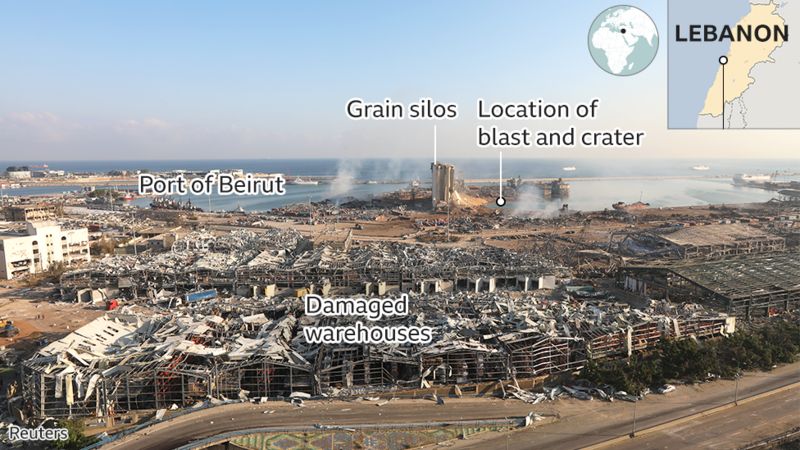 The catastrophe that occurred in Beirut on August 4th, 2020 once again highlighted the critical fact: chemicals that meet the definition of dangerous goods must not be handled, shipped or stored without proper IMDG Training and must comply with local state and/or international regulations for storage and handling. 
A force of 3.3 magnitude earthquake was registered as an explosion tore through the city. Residents of the city have described the incident as something straight out of an "apocalypse movie". The port where the incident occurred has been destroyed.
Unfortunately, this was not the first time when a tragedy of such magnitude took place on a port. In August 2015, a series of explosions at a container storage station at the Tianjin Port (China) claimed the lives of 173 people and left hundreds injured. 
As the investigation later revealed, the initial explosion in Tianjin happened due to an overheated container of nitrocellulose. However, the subsequent explosions were caused by massive reserves of sodium cyanide and ammonium nitrate (among others) stored at the port.
The Importance of IMDG Training
The International Maritime Dangerous Goods (IMDG) Code is a set of regulations for the proper classification, identification, packaging, marking, labeling, documentation, placarding, storage, to name a few, of substances or articles that meet the definition of a dangerous goods a per this code for the transportation of dangerous goods in the safest manner possible.
According to the IMDG code, dangerous goods are classified into 9 hazard classes, with different unique identification and chemical attributes, and dangerous goods that are classified will each be assigned its own unique UN number and proper shipping name for identification.
Both shore-based personnel and the shipping crew are required to undergo the IMDG training when they are responsible for handling dangerous goods. The shipper and supply chain hazmat employees must prepare and handle the dangerous goods shipments in accordance with this code for the various aspects of the dangerous goods compliance.
In October 2008, when explosions broke out on the Malaysian ship Ing Hua Fu 9 that was loading a cargo of hazardous substances at Klang Port, similar ignorance of IMDG training was found to be the culprit.
In this case, the forwarder had declared the UN numbers and classes of the lethal chemicals to the port authorities without following the proper protocols. He failed to produce a copy of the IMDG code transport details; instead, he just provided the information that was forwarded to him by the shipper.
When the case went to court, the judge declared that it was negligence on the part of shipper and forwarder as they failed to declare, causing the massive fire on the vessel.
As for this recent Beirut incident, the blast was caused by the detonation of over 2,700 tons of ammonium nitrate that was being stored at the port since 2014 when it was impounded from a cargo ship.
Ammonium nitrate is considered a dangerous substance that is used in high-grade explosive and as agricultural fertilizers. This substance can be deadly under certain circumstances, which is why it always needs to be handled with care. 
If proper training and compliance would have been accomplished from the very beginning, this tragic incident could have been prevented. In addition, if the proper storage of the ammonium nitrate had been implemented this could have been prevented as well.
IMDG Training: Stay Compliant and Up-to-Date With Current Dangerous Goods Regulations
If you are involved in the handling and shipping of dangerous goods by vessel, it is crucial that you undergo the IMDG certification training first. This training is not only for the safety and efficiency of your organization, but it also reduces the risk of similar disasters in the future.
Hazmat University offers options for anyone who requires initial or recurrent online hazmat training to get trained in a convenient, captivating, and cost-effective manner. Whether you are involved in shipping by ground, shipping by air, shipping by vessel, or multimodal shipping, you can find the most up-to-date online dangerous goods training by browsing our course offerings. Sign up today and start immediately, as our fully online courses are self-paced and available 24/7, 365.
To learn more about this comprehensive course, call us today at (844) 532-7634 or (609) 860-0300 or contact us online.
September is Compliance Month and 15% Off All Courses
To take advantage of this one-of-a-kind promotion, visit our courses page, choose a desired course, and enter coupon code "COMPLIANCE15" at checkout.