The segregation of incompatible dangerous goods (articles or substances) is an important dangerous goods function that is addressed for all the modes of transportation in each of the appropriate regulatory publications. But the segregation requirements that seem to give the most challenge to participants attending IMDG training, are the segregation requirements found in section 7.2.4 of the International Maritime Dangerous Goods Code (IMDG).
A Brief Explanation (49 CFR and IATA)
The segregation process is pretty straight forward when using the segregation table in 49 CFR 177.848. We must decode some X's, O's and blanks to determine if hazardous materials that are not limited quantity or are shipped under an exception can be packed or travel together in the same transport vehicle.
In IATA Sub-section 9.3A we must decode some X's and dashes to determine if the dangerous goods can be packed or can travel together in the same position of the aircraft. However they first must be able to ship in the same transport vehicle to the airport.
The above requirements are covered in all dangerous goods training sessions related to 49 CFR and IATA, and it is of utmost importance to hazmat employees involved in shipping multiple types of hazardous materials or dangerous goods which might require segregation and therefore must be verified.
IMDG Training for Segregation – Most Challenging!
When transporting dangerous good by ocean, the dangerous goods are loaded/shipped in cargo transport units (containers). When packing dangerous goods in the same outer packaging, overpack or cargo transport unit  hazmat employees must verify the segregation requirements of the IMDG Code  section 7.2.4. When applying the segregation requirements we must deal with a table that identifies the numbers 1-4 in each intersection, each indicating specific distance requirements, as well as X's.  The numbers are easy enough to decipher by referring to section 7.6.3.2 for guidance but it is the X's that can sometimes have us hunting down different avenues for additional information.
Example, so, let's say you're at the intersection of a row and a column in the IMDG Segregation Table and you find yourself staring at an X. That means you are good to go right? The classes are compatible and do not require segregation. Well… maybe they are, or, then again, maybe they are not. Here is where we will need to do a little digging.
Our first stop is the Dangerous Goods List entries for the materials being shipped. We want to check for two specific pieces of information from column 16b that we must know: the Segregation Group Codes (SGG) and the Segregation Codes (SG). The Segregation Group Codes, the ones with the SGG prefix, represent dangerous goods that have similar properties. There are 18 of them. Think of them as different families of dangerous goods such as acids, ammonium compounds, bromates etc.… They are listed in section 7.2.5.2, some examples are below:

The Segregation Codes, the ones with the SG prefix, indicate segregation rules that are applicable and are explained in 7.2.8 in Volume 1 of the IMDG Code. There are 78 of them. Some examples are below:

The information found here in the DGL column 16b will always take precedence over conflicting provisions in the Segregation Table. So, that X means that the classes are compatible unless the information (codes) in column 16b says otherwise.
Let's Take a Look at an Example for Clarification
UN 1439, AMMONIUM DICHROMATE (5.1, PG II) indicates SGG2 and SG75 in Column 16b.  SGG2 indicates that UN 1439 is in Segregation Group 2 – ammonium compounds and would be subject to the requirements of any Segregation Codes applicable to that segregation group.  
IMDG Section 7.2.8 indicates that SG75 requires that UN 1439 be stowed "separated from" SGG1a – strong acids. IMDG section 3.1.4.4 lists the UN numbers belonging to Segregation Group SGG1a.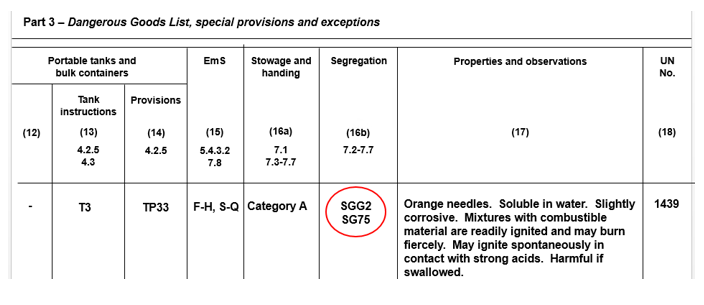 The key thing to remember with IMDG Segregation, unlike in 49CFR and IATA regulations is that it is a two-step process where we must first consult the segregation table for initial guidance according to the hazard class/division as well as subsidiary hazards and then check the Segregation Group Codes and Segregation Codes to see if any of this takes precedence over what we found in the segregation table. It is a little more work than for the other modes of transportation, but is vital to understand in order to create compliant ocean shipments that transport a mix of dangerous goods. The last thing we want,  is for incompatible dangerous goods to interact with each other in the event of a release. This type of incident can turn out to be catastrophic and an environmental disaster.
IMDG Training – Crucial to Understanding the Ocean Segregation Requirements
Order Your IMDG Training Now, Take it NOW or LATER!
Our online training is accessible for 6 months from the purchase date. This means that your training can be completed and accessed any time within that period. If you anticipate needing additional online training later in the year, we recommend that you take advantage of our promotions and quantity discounts. You can order training for multiple individuals at a quantity discount or promotional rate and complete the training up to 6 months after purchasing.
Want to learn more about the segregation requirements ? Hazmat University is an online training solution for shippers, carriers, and hazmat employees who deal with hazardous materials or dangerous goods that require segregation.
Our online web-based training is convenient and affordable AND BEST OF ALL you complete the training at your own pace. The online courses are designed to comply with federal as well as applicable international regulations for handling and shipping hazardous materials. Call us at (844) 532-7634 or (609) 860-0300 to learn more. You can also contact us online.