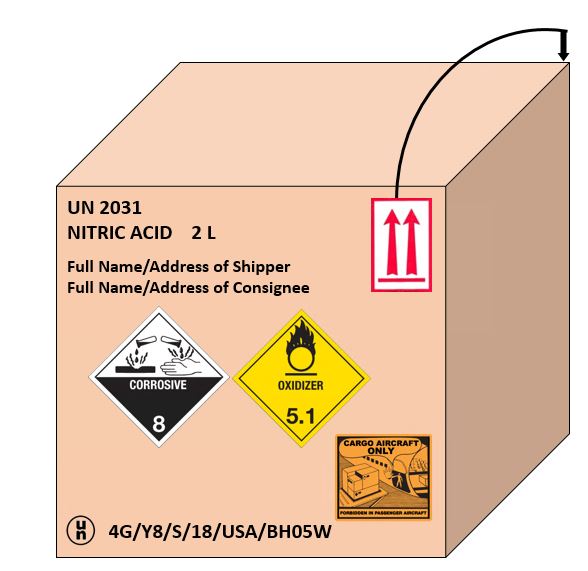 Correct marking and labeling of dangerous goods shipments by air not only prevents safety hazards but will also help avoid shipment delays and fines. It is vital to have proper knowledge and understanding of the applicable regulations before going ahead with the preparation of a dangerous goods shipment by air. Marking and labeling requirements are specified in the IATA Dangerous Goods Regulations (DGR), Section 7.
Marking and labeling is a crucial component of a compliant shipment. This is why Hazmat University offers comprehensive online IATA dangerous goods training courses to help hazmat employees, supply chains, and other air shipping companies understand the regulatory requirements and maintain compliance. To follow are some of the most common compliance requirements when applying marks and labels.
IATA Dangerous Goods Training: One Side of the Package
For most packages transporting dangerous goods, markings and labels must be placed on one side of the package unless exceptions apply. Use a larger package if all the required marks and labels do not fit on one side. (Orientation labels, however, need not be placed on the same side, however when required 2 of them must be applied and must be displayed on opposite sides of the package). 
There are four basic packaging use marks that are required on most packages containing dangerous goods as prescribed by IATA (7.1.4.1): 
the Proper Shipping Name 

the UN/ID Number

the full name and address of the shipper; and the full name and address of the consignee.
The shipper is responsible to securely affix all required labels on any package or overpack containing dangerous goods. Labels must meet the size, color, and design specifications of Section 7 and must be sufficiently durable to withstand open weather exposure. Subsection 7.3 of the IATA DGR contains full-color examples of all hazard and handling labels.
Two types of labels are addressed in Section 7:
hazard labels, which are required for most dangerous goods in all classes; and

handling labels, which are required for some dangerous goods and indicate handling precautions.
The NET QUANTITY of dangerous goods contained in the package must be shown (or the gross weight if Subsection 4.2 specified a "G" limitation) when there is more than one package in the consignment and they do not have identical contents (Consumer Commodities, ID 8000 and radioactive materials are excepted from this requirement); NOTE: Many shippers routinely mark their packages with the net quantity.
Our featured package image is an example of a properly marked and labeled package.
IATA Dangerous Goods Training: Shape and Visibility
Hazard labels must be affixed in a diamond shape (at an angle of 45 degrees) for easy identification. All the dangerous goods markings and labels must be visible and legible. They must not be obscured by any text, stickers, document pouch, tape, or other material.
How does IATA Dangerous Goods Training Help?
The shipper is responsible for all necessary marking and labeling of each package and overpack containing dangerous goods, the requirements for which are found in the IATA DGR Section 7. 
Upon completion of the IATA Certification (ICAO) Dangerous Goods Online Training, the trainee will be able to: 
Apply the correct packaging use marks or verify that they have been correctly applied. 

Apply the correct hazard and handling labels to a package or verify that the correct labels have been applied. 
With Hazmat University's self-pace, easy-to-understand dangerous goods online training, shippers of dangerous goods and their supply chains can ensure that their hazmat employees are up to date with the latest regulations. IATA Certification (ICAO) Online Hazmat Training can help improve compliance and avoid delays and fines. More importantly, the shipper's reputation will be seen as reliable and compliant when packages are properly marked and labeled.
Order Your Initial or Recurrent Online IATA Certification Training Today
 Hazmat employees who require IATA DGR training as part of their job function must undergo appropriate training and instructions to carry out their work responsibilities properly. Hazmat University's IATA Dangerous Goods Online Training can help these employees understand the regulatory requirements for marking and labeling. To purchase your initial or recurrent Online IATA Certification Training, call us at (844) 532-7634 / (609) 860-0300 or contact us online.