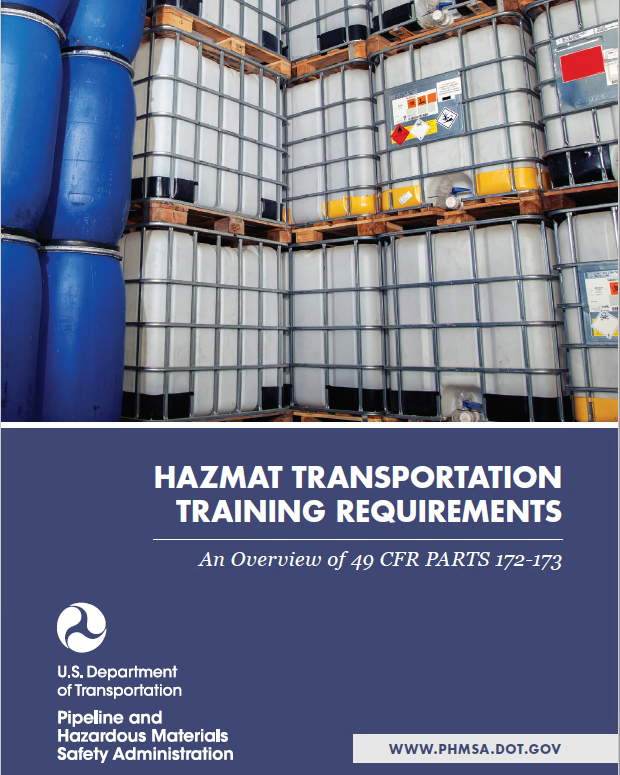 The key body of regulations governing the lawful transport of hazardous materials, 49 CFR, is extensive and exhaustive. As a result, hazmat training, which focuses on learning and understanding regulations, can also be exhausting for those who are new to this field. Thankfully, many resources exist specifically to simplify your training experience. We strive to make our blog and online training aligned with that philosophy of authoritative and simplified training. 
Another source of guidance is a brochure from the Pipeline and Hazardous Materials Safety Administration (PHMSA) that provides essential information regarding hazmat training compiled in twelve pages. Although the whole piece is worth reading, we plan to make it even simpler to understand with this blog post. Here are some key takeaways from "Hazmat Transportation Training Requirements."
You Cannot Just Take Any Training
49 CFR's Hazardous Materials Regulations (HMR) are massive, and programs must be comprehensive enough applicable to the hazmat employee's responsibilities and/or functions. To that end, hazmat employees must receive training that meets specific requirements listed in 49 CFR. These requirements include training on general awareness/familiarization, as well as function-specific training. They also extend to safety training, security awareness, and in-depth security training, if applicable.
These are the mandatory requirements that 49 CFR prescribes on this matter. As the FAQ section in the brochure explains, the US Department of Transportation (DOT) "does not review or certify training programs" (for the most part). As a result, employees can receive training from employers, private and public offerings or from "Federal or international agencies". They may even receive hazmat certification through "self-training." All that matters is that they meet the aforementioned requirements. PHMSA will verify this during inspections.
Training May Be Required for Unexpected Employees
Hazmat training is not just for the people who directly interact with such materials, nor for the people who supervise them. This can be seen in a scenario from the FAQ section, describing an office secretary helping to fill out a hazmat shipping form. If this is one of the duties of the hypothetical secretary, then they would count as a hazmat employee and thus require training. They are performing "a function subject to the HMR."
On the other hand, the question of who needs training can get trickier, especially for shipping by vessel. The brochure clarifies that " hazmat employers and/or employees who operate a bulk vessel transporting hazmat" do not need to meet 49 CFR's training requirements. This is because "the bulk carriage of hazmat by water is governed by 46 CFR" instead – with the exception of "transportation in bulk packagings." These examples just go to show that people need to consider how their duties relate to 49 CFR.
Hazmat Training is Vital
PHMSA developed this comprehensive brochure for a reason: they believe strongly in the value of training. The very first sentence of the brochure's content, which practically serves as its thesis statement, reveals this conviction. It reads, "Training is the best means of preventing, or reducing, hazardous materials (hazmat) incidents in transportation that are caused by human error."
We at Hazmat University could not agree more. To that end, we provide online hazmat training programs designed to fulfill 49 CFR's requirements. Our courses are comprehensive, up-to-date, and entirely online for your convenience. Get started on earning your hazmat training online today, here at hazmatuniversity.com.