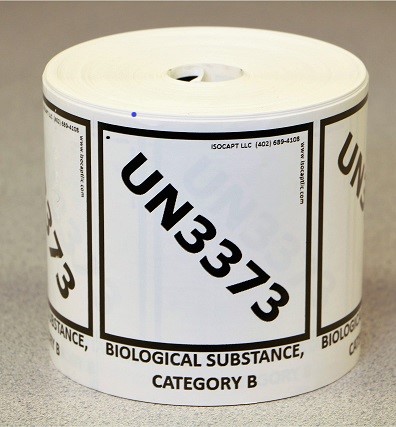 Update on IATA Guidelines Due to COVID-19 Pandemic
The Shipper's Declaration for Dangerous Goods is a widely misunderstood part of the hazmat transportation process. According to the Pipeline Hazardous Materials Safety Administration (PHMSA), mistakes in filling out the form constitute "one of the most frequently cited violations of … 49 CFR." These mistakes are unfortunate because employees must understand the importance of this document in preventing incidents – and, potentially, civil penalties. Here is some information on hazmat shipping papers as well as IATA shipping training.
The coronavirus outbreak has caused the International Air Transport Association (IATA) to provide an update to shipping guidelines regarding Dangerous Goods (DG) transportation by air for COVID-19 specimens. Since the beginning of the outbreak, COVID-19 specimens and test samples have been shipped to laboratories and healthcare centers all cross the country for analysis. Due to the confusion seen by many DG transporters, who were unsure how these specimens and samples should be classified, IATA issued a guideline to help provide clarification. 
IATA Shipping Training: What is the Shipping Paper's Purpose?
The people involved in the hazmat transport process need to know the specific details of the dangerous goods that they are handling and shipping. They especially need to know exactly what hazards these materials pose. Different hazards will require different precautions, and containment practices that are effective against one type of danger may be useless against another. Hazmat employees, in short, must know what they are in for.
The purpose of the Shipper's Declaration for Dangerous Goods is to include all this and more information in one convenient document. Once the shipper fills out the form with the required details, everyone down the line can use it as a reference for how they should and should not treat the shipment. Thanks to the shipping paper, they will know what precautions to take, what packaging type was used, and what mode of transport is suitable for carrying the package.
Of course, hazmat shipping papers do more than inform hazmat employees. They provide first responders with the information they need to handle a hazmat emergency involving this specific material. They also serve as a record of the item's transport. All this is why 49 CFR and international regulations require hazmat shippers to provide carriers with shipping papers when applicable.
IATA Shipping Training: What Do You Include in a Shipping Paper?
Shipping papers require what is known as a "Basic Description" of the hazardous material in question. This section refers to a collection of data that, in accordance with 49 CFR Part 172 Subpart C, must be written in a specific order. The Basic Description includes:
The material's identification number

The material's proper name

The material's hazard class or division number (subsidiary hazard(s) when applicable)

The material's packing group, written in Roman numerals (see the regulations for exceptions)
This may seem like quite a bit of information, but there is more to the shipping paper than the Basic Description. You must also indicate the package(s) amount of the hazardous material being shipped. This typically requires representing the quantity of the material in mass or volume.
On that note, the shipping paper, finally, should include the number and type of packages. Depending on the material transported, you may have to comply with still more requirements for the description.
Classification of COVID-19 Tests and Specimens
IATA requires COVID-19 test samples and specimens to be classified as UN 3373, Category B (Biological Substance). The Centers for Disease Control (CDC) has also issued an advisory stating that the test samples and specimens should be classified as Category B. 
Substances that are classified as Category B do not need a Shipper's Declaration for Dangerous Goods. Therefore, now that IATA has issued clarification that COVID-19 shall be transported as such, it is permissible to ship COVID-19 test samples and specimens without a shipper's declaration for dangerous goods. This is consistent with previous IATA shipper's declaration requirements. 
Packing and Marking Requirements for Category B Specimens
The IATA DGR specify that Category B specimens must be packed in accordance with Packing Instruction (PI) 650. This PI requires a three-component packaging system that includes a leak-proof primary receptacle, a leak-proof secondary layer of packaging, and a rigid outer layer of packaging. This PI also specifies that the packagings must be strong enough to withstand conditions normal to transportation by air such as vibration, pressure changes, temperature changes or humidity changes. Additionally, the outer package must be capable withstanding drop test specifications. 
Further indicated in Packing Instruction 650 is the requirement that the package must bear the UN3373 mark and Proper Shipping Name (PSN) to indicate that the package contains a Category B Biological substance. 
The Importance of IATA Shipping Certification Training in a COVID-19 World
It is absolutely essential to comply with IATA/ICAO regulations throughout the dangerous goods supply chain, as it is the only way to make sure that the goods are shipped safely and in a timely manner. It is particularly paramount in a COVID-19 world, as the consequences of a dangerous goods incident under these circumstances can result in additional stress, financial penalties, jailtime and more. 
By completing a comprehensive online IATA shipping training program, your dangerous goods employees will learn how to differentiate between the nine hazard classes, how to identify dangerous goods and also how to compliantly pack, mark, label and document dangerous goods for air transportation.
Ready to Find a Reputable IATA Shipping Certification Training Provider?
Hazmat University has professionals with over 45 years of experience in the hazardous materials/dangerous goods shipping industry. We specialize in dangerous goods courses for shippers, freight forwarders and supply chain involved in pre and post hazmat transportation functions. 
In this time of increased social distancing, online dangerous goods training courses have become even more critical to maintaining transportation compliance. That is why, even amidst the COVID-19 crisis, we stand ready to provide essential online training options for dangerous goods employees on the frontlines of the supply chain. 
Want to see what our courses look like? Click here to view an Interactive Demo. To find out more, call us now (844) 532-7634 or (609) 860-0300 or contact us online.