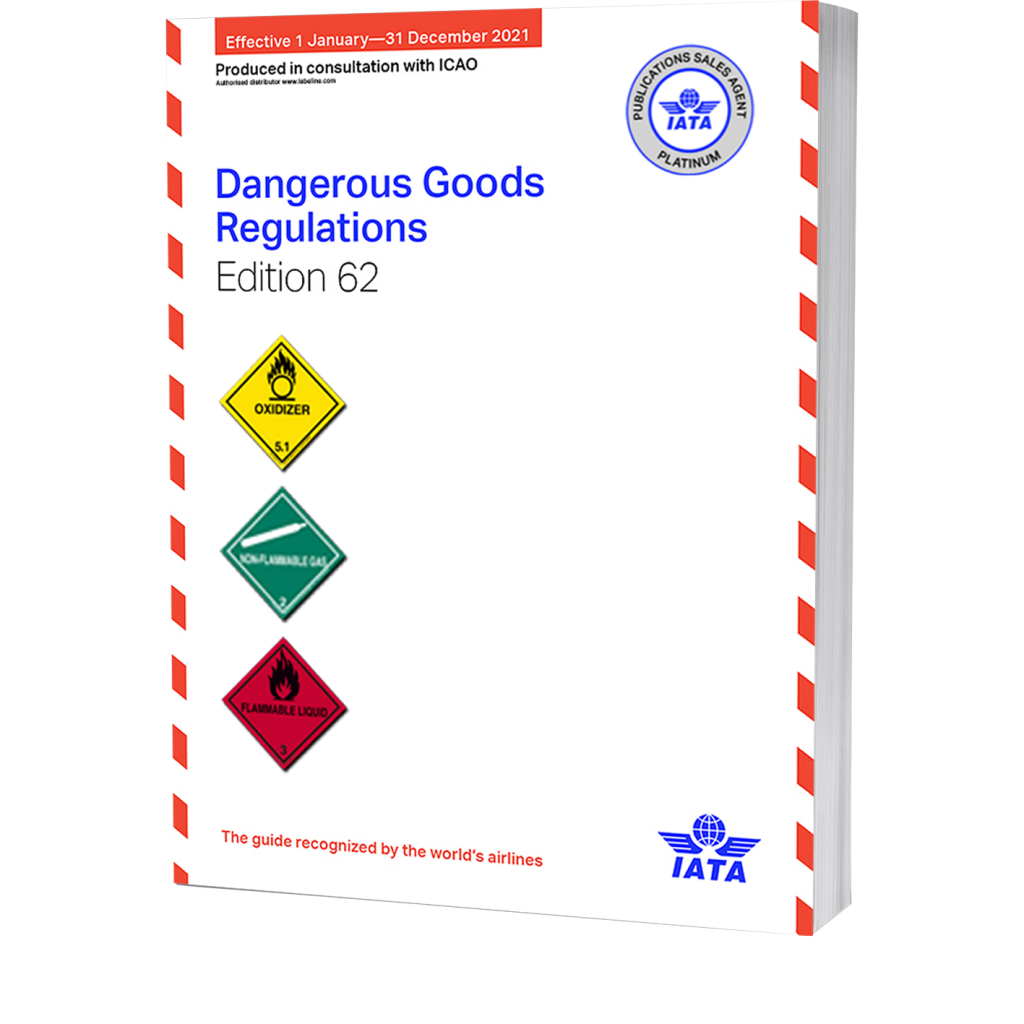 It's that time of year! The International Air Transport Association (IATA) has published a new edition of its Dangerous Goods Regulations (DGR) manual. This manual is considered the most useful resource for airlines and shippers worldwide that handle the transportation of dangerous goods by air, and it is the perfect complement to IATA (ICAO) Shipping by Air online hazmat training.
The mandatory compliance with this brand-new 62nd IATA DGR will begin on January 1st, 2021. Will you be ready? Our IATA (ICAO) Shipping by Air Online Hazmat Training is easy and a convenient way to help you comply with initial or training requirements.
How is this New IATA DGR Edition Different?
You will notice that the 2021 DGR has made some significant changes to the air shipping regulations, such as:
 

      Revision of most of the IATA DGR Packing Instructions, including PI970 and 965 for batteries or lithium cells

 

      Amendment of existing special provisions and addition of new special provisions to Section 4.4

 

      Addition of proper shipping names and new UN numbers to the List of Dangerous Goods (Section 4.2)

 

      Addition of new criteria to address solid medical waste containing infectious materials belonging to Category A

 

     

Revision of the criteria that assigns PG to corrosive substances and mixtures

 

      Adoption of a latest, competency-based framework for dangerous goods training (Section 1.5)
 If you want to see the complete list of updates to the 2021 IATA DGR, we have put together a detailed guide for you.
Competency-Based Dangerous Goods (DG) Training
 The 62nd IATA DGR edition amends the DG training requirements (Section 1.5) to apply a competency-based approach to DG training and assessment. This new approach identifies crucial skills and competencies that each employee will need to do their jobs efficiently. It also provides the necessary tools and training for the employees to develop such skills.
It can be said that the goal of this new competency-based framework is to make DG training more learner-centric. This is different from the traditional training that's more on the lines of "one-size-fits-all," in which every employee undergoes the same type of DG training regardless of their experience, job role, or previous knowledge unless an employer or contracted trainer uses customized training to meet the needs of employees. According to this international standard each hazmat employee must undergo training every 24 months.
What is IATA DGR?
The International Air Transport Association (IATA) is the global trade association of airlines all around the world. It was founded in 1945 and its main role is to set technical standards for the worldwide airline industry
IATA created the Dangerous Goods Regulations (DGR) manual for airlines, brokers, freight forwarders, and hazmat shippers to reduce the risks posed by air transportation of dangerous goods. IATA DGR is the global reference for transporting hazardous materials by air. It is the primary standard recognized by the airlines and Hazmat University's IATA (ICAO) Shipping by Air Online Hazmat Training utilizes this standard, which will help you successfully comply with Federal and International regulations.
IATA (ICAO) Shipping by Air Online Hazmat Training
To help shippers, airlines, freight forwarders, and hazmat employees  implement this new approach to DG training, Hazmat University offers a wide variety of online dangerous goods training and online hazmat training courses that cover all the important job functions/responsibilities – for classifying and identifying articles and substances, packing, marking, labeling, loading, unloading, placarding and documenting shipments. 
We have also designed extensive courses specific to "limited quantities" and "lithium batteries" shipments.  To know more about our online hazmat training, call us at 844-532-7634 or 609-860-0300. You can also reach out to us online.