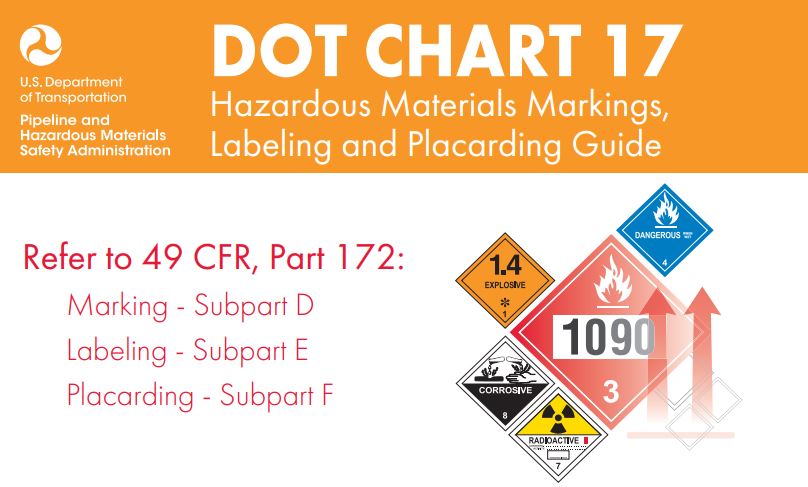 Hazmat employees and others involved in the handling and/or shipping of hazardous materials have a responsibility to familiarize themselves with and adhere to the precise regulations governing placarding requirements. At Hazmat University, we prioritize the inclusion of placarding rules in our comprehensive online training courses for ground shipping and multimodal shipping. By enrolling in our online hazmat training courses, you gain access to all the necessary knowledge pertaining to placarding regulations.
Essential to the role of rulemaking and enforcement of hazmat transportation regulations, PHMSA also has many outreach programs.  These programs are used by stakeholders to learn about their requirements under hazmat law, enhance their own safety programs or provide training.  They can also be used a job aides to help employees communicate while at work.
Often noted as a point of confusion in training, and on the dock for that matter, are the placarding requirements for ground shipments in the U.S.  One must be able to answer several questions when determining whether or what placards must be applied to the vehicle including:
Is the hazard being loaded listed in Placarding Table 1 or 2?
How much is being loaded in the vehicle?
Are 4-digit numbers required to be added to the vehicle?
Is the material being shipped excepted from the placarding requirements all together?
One of the most popular publications released by PHMSA is the Hazardous Materials Markings, Labeling and Placarding Guide, currently known as Chart 17.  This guide is often used to supplement a training program or as a job aide.  It is also one of the best documents to help determine whether a shipment requires placards or not.
What is Chart 17?
Chart 17 is a publication available from DOT for use by the public. It can be ordered in print format and is also available in PDF or as an app (android or iphone).
The chart includes full color graphics of each of the markings, labels and placards in the 49 CFR.  With each graphic is a cross reference to the 49 CFR where the design and display requirements are found.  The placard graphics include a reference to Table 1 or Table 2 entries.
How can Chart 17 be used to determine placarding requirements?
While Chart 17 cannot be used to determine compliance with the regulations, it can be used as an aide for determining compliance. The graphics of each placard are found on the third page of Chart 17 (see below).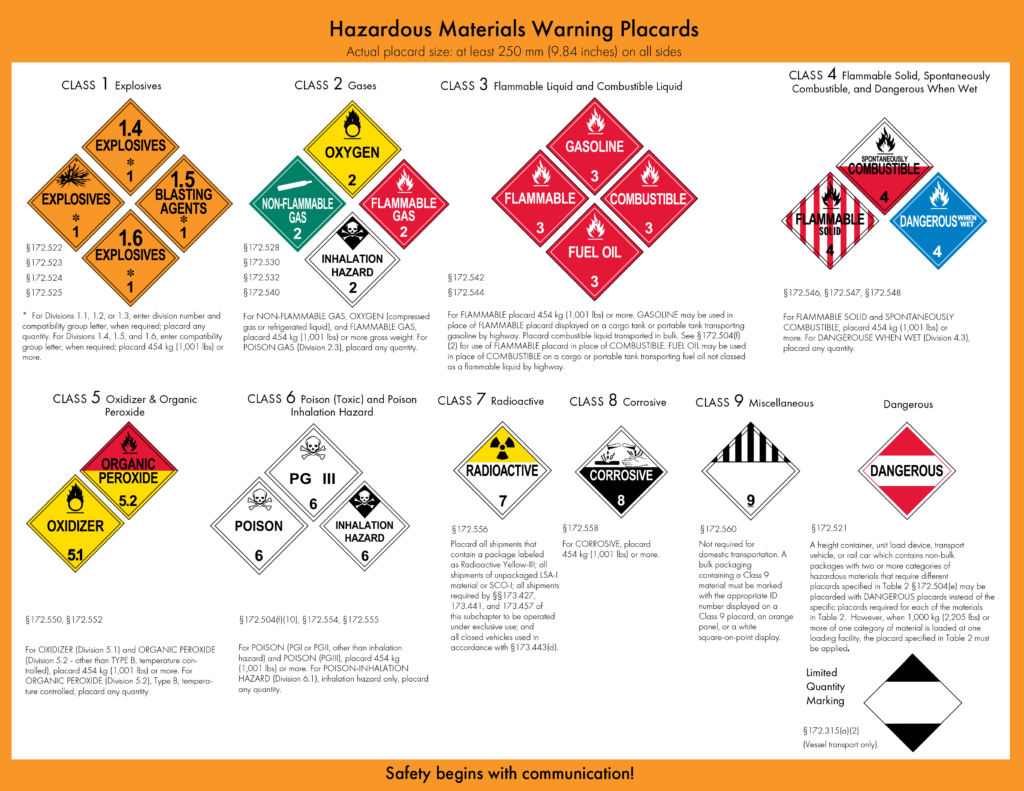 All hazardous materials shipments require placards. Some hazards are excepted from the placarding requirements depending on the weight of material loaded in a vehicle.  Other shipments may require a 4-digit UN number be added.
Placarding tables 1 and 2, found in §172.504(e), are used to determine if a shipment is excepted from placarding requirements.  When a transport vehicle or freight container contains less than 454 kg (1001 lbs.) aggregate gross weight of hazardous materials covered by placarding table 2, placards are not required.  Those materials listed in placarding table 2 are noted with the phrase "placard 454 kg (1,001 lbs) or more gross weight in Chart 17.
Similarly, certain vehicles must be marked with the 4-digit UN number for the material loaded within.  These scenarios include:
Tank cars, cargo tanks, portable tanks and other bulk packaging;
Transport vehicles containing 4,000 kg (8,820 lbs) in non-bulk packages of only a single hazardous material having the same proper shipping name and identification number loaded at one facility with no other materials; and
Transport vehicles containing 1,000 g (2,205 lbs)of non-bulk packagings of materials poisonous by inhalation.
4-digit UN numbers may be displayed on an orange panel, white square on point marking or across the mid-line of the placard.
Chart 17 includes both placarding table and examples of appropriate displays on UN numbers. It also includes general rules about placarding including that placards are normally required on both sides and both end of the vehicle.
Hazmat University is the Leading Provider of Online Hazmat Training Courses Related to Placarding
Each bulk packaging, freight container, unit load device, transport vehicle or rail car containing any quantity of a hazardous material must be placarded on each side and each end in accordance with the General Placarding Requirements specified under 49 CFR § 172.504 and 172.505.
You can find everything you need to know about the rules regarding placarding in Hazmat University's online training programs for shipping by ground and multimodal shipping. Hazmat University is a reliable and experienced provider of online hazmat training courses that meet the regulatory requirements, while delivering high quality online training materials in a self-paced, dynamic, and interactive learning format.
Start your learning journey today by signing up with us for the most updated online hazmat training courses. To know more, call (844) 427-0167 or contact us online.
Be Confident. Be Competent. Be Compliant.