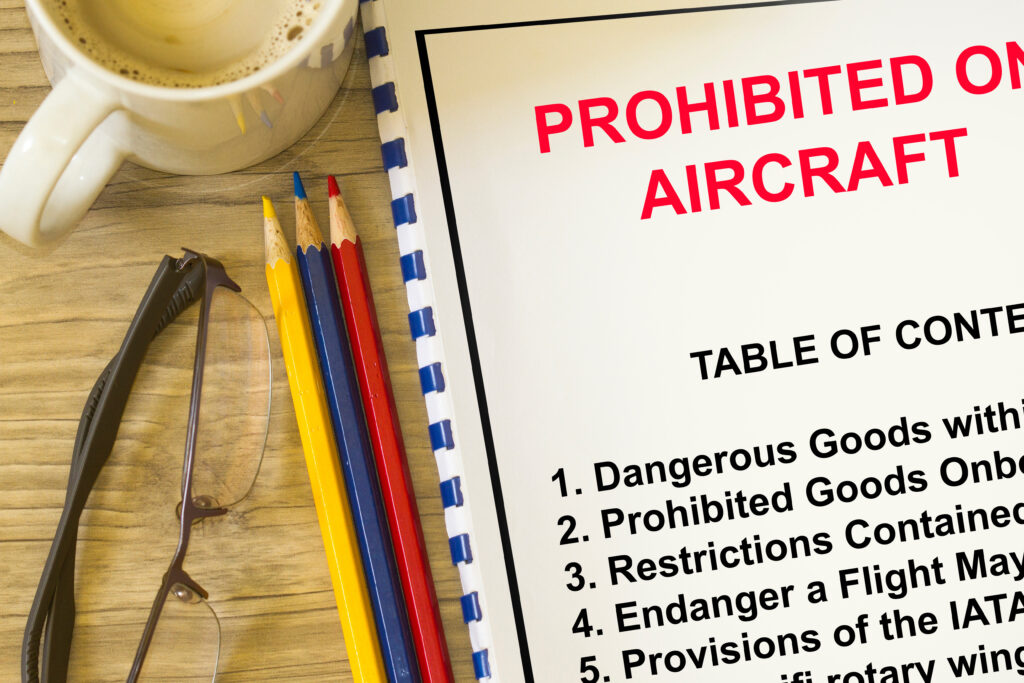 On March 31st, 2023, the International Air Transport Association (IATA) published the second addendum to the 2023 IATA Dangerous Goods Regulations (DGR) 64th Edition. Changes described in the IATA DGR Addendum II will continue to be effective until December 31st, 2023. Mandatory compliance with the provisions of the new IATA DGR for shipping dangerous goods by air has already begun from January 1st, 2023.
Notably, the changes described in the IATA DGR Addendum II primarily relate to participants involved in the shipping and handling of portable electronic devices (PEDs) and battery-powered vehicles or equipment. In addition, the Addendum II also introduces some State variations and Operators variations as well as provides corrections for some printing errors.
Key Inclusions in Addendum II of IATA DGR 64th Edition
Batteries in Portable Electronic Devices (PEDs) – Including Medical Devices
According to Addendum II, the IATA has made changes to Section 2 of the DGR, revising the shipping requirements for portable electronic devices containing batteries and spare batteries (2.3.5.8) to include an exception. It is no longer necessary for these devices to be "completely switched off" provided the following conditions are met:
For lithium metal batteries: The lithium content of the battery does not exceed 0.3 grams
For lithium ion batteries: The battery does not exceed a Watt-hour rating of 2.7 Wh
Battery-powered Vehicles or Equipment
According to Addendum II, the IATA has made changes to Section 5 of the DGR, correcting DGR Packing Instruction 952 under paragraph (b) 2 on Page 617. The corrected paragraph for battery-powered vehicles and battery-powered equipment now includes the following new additional text:   
"Lithium batteries which have been removed from the vehicle and are packaged separate from the vehicle in the same outer packaging must be offered for transport as UN 3481, Lithium ion batteries packaged with equipment or UN 3091, Lithium metal batteries packaged with equipment and packed according to Packing Instruction 966 or 969, as applicable."
Operators Variations Updated
Apart from the two revisions related to lithium batteries, Addendum II includes changes to operating procedures from 18 airlines under the New or Amended Operator Variations (Section 2.8.4) area. The listed airlines in this update are as follows:
ASL Airlines Belgium

Silk Way West Airlines

Astral Aviation

EVA Airways

Air Atlanta Icelandic

Copa Airlines – Cargo

Air Atlanta Europe

Condor Glugdienst GmbH

Air Seychelles

Jin Air

All Nippon Airways

SF Airlines

Asiana Airlines

Aero Republica

DHL Air Austria GmbH

Singapore Airlines

SunExpress

Globus LLC
Note: You can access Hazmat University's link to information on Addendum II to the 2023 IATA DGR (64th Edition). If you are using IATA DGR 64th Edition 2023 (Digital) for international, state, and airline requirements, you can access the new updates directly in your DGR. You may also download the full Addendum I  at this link (PDF).
Choose Hazmat University Online Courses to Stay Updated with the Latest Information
The IATA Certification (ICAO) Online Hazmat Training course from Hazmat University provides initial and recurrent dangerous goods training to participants involved with handling, shipping, and/or transport of non-bulk, non-radioactive dangerous goods by air. Hazmat University also offers Lithium Batteries Training by Air online course for participants involved with the handling, shipping, and/or transport of Lithium Batteries by air and many more options for online dangerous goods training.
Our hazmat online courses are designed to be interesting, experiential, and user-friendly for hazmat employees, shippers, and freight forwarders. Our industry-leading Dynamic Learning Environment sets us apart to make your hazmat online training a breeze. To learn more about Hazmat University's online hazmat training courses or to speak to one of our dedicated representatives, call (844) 427-0167 or contact us online.
Be Confident. Be Competent. Be Compliant.