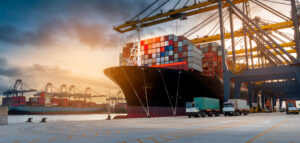 Hazardous materials can be shipped through multiple modes of transportation. But among all the available modes, hazmat shipping by vessel assumes a special significance simply because the quantity of cargo usually transported through this mode is massive compared to ground and air shipping in one transport vehicle. The people involved in various stages of shipping and handling hazardous materials by vessel must have the necessary hazmat training in order to comply with the regulations and ensure their own safety as well as the safety of others.
Shipments to, from, and in transit within the United States of America and American territories must comply with the relevant regulations found in Title 49 of the Code of Federal Regulations (49 CFR) from the US Department of Transportation's Pipeline and Hazardous Materials Safety Administration (PHMSA). If your work involves the handling of dangerous goods and hazardous materials for sea transport, you need to know and abide by these regulations to guarantee safety.
Anyone involved in hazmat shipping by a vessel must also comply with the International Maritime Dangerous Goods (IMDG) Code, which the International Maritime Organization (IMO), a United Nations agency, created specifically to protect workers, ships, and the environment at sea. It may seem like much to learn, so here are a few important tips on shipping dangerous goods by vessel in accordance with the latest dangerous goods and hazardous materials shipping regulations.
Tips for the Shipper
Packaging Hazardous Materials
The General Packing Requirements found in 49 CFR Part 173, provide regulations for the packaging of all hazardous materials (except for certain instances listed in other parts of 49 CFR). Packages must be designed, packed, filled, and sealed to prevent damage or leakage of the materials while transported in commerce.
You must account for factors that could threaten the ability of the package to contain its contents, such as pressure, temperature, and especially reactions from potential contact with other elements. You can find the necessary information for packaging in the Hazardous Materials Table column 8 in Part 173 and additional requirements in Part 178 of 49 CFR.
Based on this, supplementary packaging beyond the given requirements is permissible, just as long as the overall packaging still complies with the requirements for packaging the given hazardous material or article.
Labeling of Packages and Shipping Papers
Properly labeling packages containing hazardous materials is vital for preventing accidents, so everyone involved in every step of the shipping process knows the content of the cargo unless exceptions apply.
This means knowing which "class(es)" the materials have been classified into according to hazardous materials regulations such as the IMDG code. There are nine in all, examples of the hazard classes begin with Class 1 being explosives, Class 2 being gases and Class 9 being "Miscellaneous Dangerous Substances and Articles." You will need to determine an item's class by reading the specifications in the code.
49 CFR Part 172.200 of the federal hazardous materials regulations also dictates that shippers must have shipping papers for hazardous materials unless exceptions apply. Required information includes a basic shipping description of the materials to include proper shipping name, UN/ID No., hazard class, sub hazard and packing group if applicable. You are required to communicate the quantity, the number and types of packages, and emergency response information such as an emergency response phone number, to name a few.
Segregation of Substances
Sometimes a vessel will carry different substances that, due to the nature of their chemistry, can react dangerously when they come in contact. 49 CFR Part 176 prescribes regulations for the segregation of hazardous materials from other classes of hazardous materials and from non-hazardous materials. It also lists exceptions to segregation rules, such as materials of different classes "that do not react dangerously with each other."
When transporting dangerous goods by the vessel, the dangerous goods are loaded/shipped in cargo transport units (containers). When packing dangerous goods in the same outer packaging, overpack, or cargo transport unit, hazmat employees must verify the segregation requirements within the cargo transport unit as well.
The key thing to remember with 49 CFR and IMDG Segregation, is that it is a two-step process where we must first consult the segregation table for initial guidance according to the hazard class/division as well as subsidiary hazards and then check the Segregation Group Codes and Segregation Codes to see if any of this takes precedence over what we found in the segregation table. It is a little more work than for the other modes of transportation but is vital to understand in order to create compliant ocean shipments that transport a mix of dangerous goods.
This is only a brief summary of the many rules and regulations that shippers need to comply with for shipping dangerous goods by vessel. Anyone involved with shipping hazmat or entrusted with the responsibility to handle or transport hazardous materials must make the effort to learn them. This is not an option and is subject to legal penalties if not complied with.
It's for this reason that federal law requires shippers to undergo training for handling hazardous materials, and that is why Hazmat University provides both initial training and recurrent training for more seasoned professionals involved with transporting hazardous materials. Sign up for our IMDG Shipping by Vessel courses today.
Steps for IMDG Shipping by Vessel Process
Determine if the substance is CLASSIFIED as a dangerous good in transportation.  Most shippers will use section 14 on the material's Safety Data Sheet (SDS). If the material is a dangerous good, the proper shipping name and UN number most likely will be found there. If the information is not listed on an SDS, the hazard class/division must be determined by comparing the chemical characteristics of the materials with the classification criteria found in IMDG Part 2. If the information on the chemical characteristics of the material is not available, testing must be performed to determine the hazard class(es).
Check the Dangerous Goods List (IMDG 3.2 Columns 1 and 2) for the UN NUMBER and Proper SHIPPING NAME in all caps.  This is the name used to identify the material on the package and the dangerous goods documentation.  If special provision 274 or 318 is listed in Column 6, the technical name must be shown in parenthesis with the proper shipping name.The Dangerous Goods List in the IMDG Code is sorted by UN Number.  If the UN number is not provided, look up the proper shipping name in the index at the end of Volume 2, then look up the UN number in the Dangerous Goods List.
Note the PRIMARY AND SUBSIDIARY HAZARD CLASSES/DIVISIONS (Columns 3 and 4) and PACKING GROUP (Column 5) of the material.  If more than one packing group is listed, check the SDS to determine which packing group to apply.
Determine if the material is permitted to be transported as a LIMITED QUANTITY. Look at Column 7a.  If a "0" appears in the column, the material must not be shipped as a limited quantity.
If the material is not forbidden for transport in a limited quantity, determine the PACKAGE LIMITS in Column 7a for limited quantities.
Determine if the material is a MARINE POLLUTANT by checking Column 4 ("P"), IMDG Chapter 2.10, and the List of Marine Pollutants 49 CFR 172.101 Appendix B. If the material is a marine pollutant, it must be identified as such on the package and shipping document.
Note the PACKING INSTRUCTION number in Column 8 and special packing provisions in Column 9.
Read all SPECIAL PROVISIONS listed in Column 6.  Special provisions are found in IMDG 3.3.
Ensure the packaging complies with the general packing provisions and the specific provisions found in the packing instruction (IMDG Chapter 4.1).
Prepare the PACKAGING following the packing instruction and the manufacturer's closure instructions.
MARK and LABEL the package as required. (IMDG Chapter 5.2)
If preparing an OVERPACK, make sure to: (a) Check Table 7.2.4 for segregation requirements, (b) Duplicate all labels and markings on the outside of the overpack, (c) Mark the outside of the overpack with the OVERPACK marking.
Complete the DANGEROUS GOODS DOCUMENTATION. (IMDG Chapter 5.4)
Provide appropriate EMERGENCY RESPONSE INFORMATION.  (49 CFR 172.600)
Offer PLACARDS to trucking company as required by 49 CFR 172 Subpart F and IMDG Chapter 5.3.
Tips for IMDG (IMO) Shipping by Vessel Online Hazmat Training
If your job involves shipping, handling, and/or transportation of non-bulk, non-radioactive dangerous goods by vessel, you must complete the IMDG Certification Training. Hazmat University offers the latest IMDG Certification Training (IMO Vessel) in a convenient online, self-paced format.
Whether you require initial or recurrent IMDG certification training, this online course from Hazmat University provides up-to-date information to all participants involved with the shipping, handling, and/or transportation of dangerous goods by vessel. This online hazmat training is based on the latest requirements specified in the IMDG Code and complies with 49 CFR (Title 49 of the US Code of Federal Regulations).
The primary audience for this course includes hazmat employees, shippers, and freight forwarders involved in the shipping, handling, and/or transport of dangerous goods by vessel. This hazmat online training course from Hazmat University also includes General Awareness and Security Awareness at no additional cost. The average course duration is 6 to 7 hours, but it can vary according to the student's needs.
The Need for IMDG Training and Certification 
Individuals who are involved in shipping dangerous goods by the ocean are required to undergo IMDG training programs that encompass regulatory requirements pertaining to dangerous goods shipments.
IMDG training certification is required for dangerous goods employees who perform one or more of the following functions:
Classification and identification of dangerous goods, based on the hazard class they present
Packing and/or selecting the appropriate packaging for dangerous goods transportation
Marking and labeling of dangerous goods packages for transportation
Preparing required dangerous goods shipping paperwork
Determining segregation requirements of dangerous goods packages loaded into cargo transport units (CTUs)
Loading and unloading shipments containing dangerous goods
Selecting or affixing placards on CTUs containing dangerous goods shipments
Blocking and bracing dangerous goods within CTUs and/or completing container certification for CTUs
In addition, IMDG training programs are also needed for freight forwarders, contractors, and other people who are involved in the process to ship hazardous materials and dangerous goods by ocean.
The Objectives of an IMDG Training Program 
An IMDG training program is designed to educate the dangerous goods shipping community regarding the safe transportation of dangerous goods by vessel. As such, the objectives of an IMDG Training Program should be closely related to the dangerous goods shipping functions mentioned above and should include a minimum of the following shipping and handling requirements:
Classifying and Identifying dangerous goods
Understanding the general risks posed by the 9 hazard classes of dangerous goods
Selecting packaging and/or preparing packages for dangerous goods shipments
Marking/labeling/placarding dangerous goods shipments
Loading/blocking/bracing/segregating CTUs containing dangerous goods
Applying IMDG regulations to shipments containing dangerous goods
Sign Up for Hazmat University's IMDG Certification Training (IMO Vessel) Online Course Today
When hazmat employees receive the latest IMDG certification training online in Hazmat University's self-paced, easy-to-understand, and interactive format, it makes learning a breeze. Employees receiving this online hazmat training in the preparation for shipping dangerous goods by sea can help improve the safety and efficacy of the organization. Time lag and resource wastage are reduced, which ultimately adds to the business's bottom line. Finally, this mandatory training also ensures that incidents of non-compliance and the resulting unfavorable consequences are prevented or minimized.
Hazmat University's IMDG shipping by vessel hazmat online training allows the participants to become IMDG-trained as part of their initial training or to maintain the continuity of their existing hazmat certification through recurrent training. Upon completion of the online hazmat training course, the participant can immediately download the certificate (proof of completion).
This online course from Hazmat University covers the prescribed training areas in proper detail. After completing the course, the participant should have the requisite knowledge in areas, such as classification, identification, packaging, marking, labeling, documentation, segregation, and placarding as well as general awareness, safety, and security of the dangerous goods to be shipped by vessel.
Hazmat University also offers a dedicated online training course on shipping Lithium Batteries by Vessel. To learn more about our online hazmat training courses or to speak to a dedicated Hazmat University representative, call us at (844) 427-0167 or contact us online.
Be Confident. Be Competent. Be Compliant