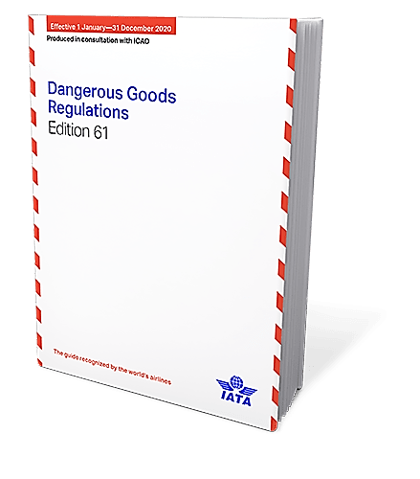 December is finally here, and while we are having difficulty staying focused due to the upcoming holidays, IATA (International Air Transport Association) has released a brand-new addendum for the 61st Edition of the IATA Dangerous Goods Regulations (DGR) to kick off the new year.
The amended version of the IATA DGR will become effective on January 1st, and hazmat employees must already prepare for changes. Not doing so may result in delays and log-jammed shipments.
Summary of Addendum I
Although the addendum does not seem to be dramatic as far as changes and amendments, to follow are some of the key points:
Various updates to operator variations and, of course, a must-have with respect to lithium battery transport;
updates and corrections to various Packing Instructions; and
a new State variation for Aruba (AWG).
Section 2.8.2 IATA Operator Variations
The upcoming addendum includes numerous updates to airline operator variations. The purpose of operator variations is to notify of carrier-specific requirements that shippers must follow when offering dangerous goods for transport by air.
FedEx Express
FX-05 – Updated to clarify its acceptance criteria for lithium batteries.
FX-09 – Segregation requirements prescribed in 49 CFR  §177.848 must be observed for all "Overpack" or "All Packed in One" shipments.
Emirates
EK expanded the categories of dangerous goods that will not be accepted for carriage as cargo to include Class 4 and Class 5 hazardous materials.
These are just some variations to name a few. Other airlines that updated operator variations in this addendum include Jetstar Japan (GK), Royal Dutch Airlines, Asiana Airlines (OZ), and others.
Section 5 IATA Packing Instructions
The following packing instructions have been amended: PI 360, 361, 362, 363, or 364.
If these packing instructions are part of your packaging routine to prepare your dangerous goods air shipments, you must review them in time to apply relevant changes.
Miscellaneous Amendments to Addendum I
 Like with any other addendum, IATA takes this opportunity to clean up any other minutiae that have been identified in the previous edition of the DGR, therefore make sure you have liquid paper and a red pen ready to make changes if you have already purchased your hardcover.
IATA changed the word "Fibre" to "Fibreboard" in the Single Packaging Tables for Composites across many Packing Instructions
Various corrections of typos and grammatical errors
Revisions to competent authority listings
Revisions to the guidance material on development and implementation of competency-based training for dangerous goods
And much more…
You can review the entire new addendum here.
Learn the Latest Dangerous Goods Regulations Today at Hazmat University
The IATA/ICAO DGR may require hazmat employees to undergo training at least once every 24 months, but the DGR still updates more frequently than that. If you would like to stay current with the latest changes in dangerous goods regulations, Hazmat University can help by not only educating you, but most importantly, ensuring you have a tangible, digestible understanding of these complex and ever-evolving regulations.
We offer initial or recurrent dangerous goods training for the transport of dangerous goods by air, as well as the other modes of transport. Your search for an up-to-date and dynamic online hazmat training resource is over! Start your training today at Hazmat University by visiting our online course menu or check out our super-expansive and informative online hazmat training guide!