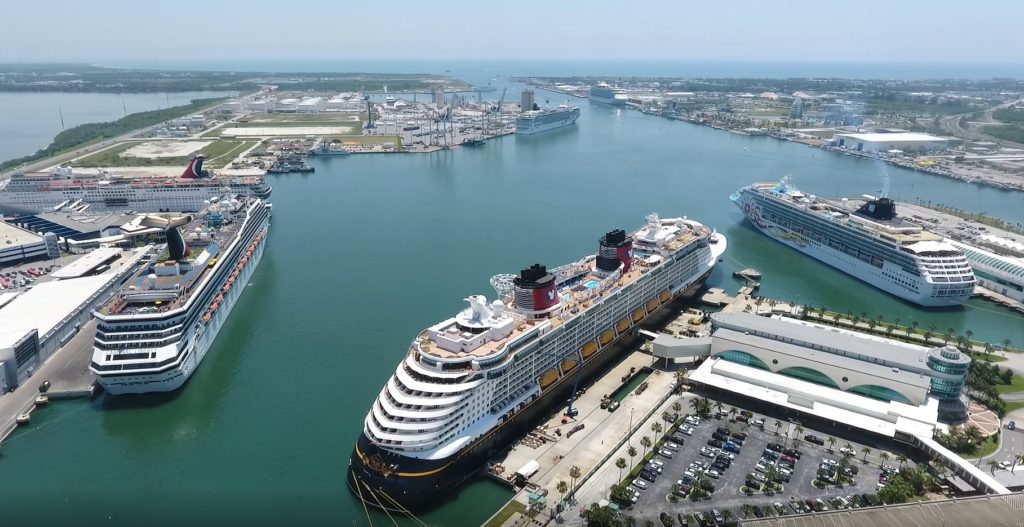 The cruise industry, which was devastated by the COVID-19 Pandemic, is slowly returning to normalcy as many cruise lines are planning to resume operations after this extended shutdown. 
With cruises set to return in the coming months, all eyes are on the industry's supply chain, as these ships need to be stocked up with sufficient provisions to meet the needs of passengers and increased sanitation measures resulting from COVID-19. Obviously, in order to properly stock the ships, a myriad of items must be transported along the industry's end-to-end supply chain. These items can range from toilet paper and food supplies to dish soap and bed sheets.
However, what may not be widely known is that many of these items actually meet the criteria to be classified as Dangerous Goods (DG). Materials such as first aid kits, fire extinguishers, fuels, aerosols, hand sanitizers, and more are all considered dangerous goods for transportation purposes. This means that those companies involved in the industry's supply chain and the cruise ships themselves need to ensure that they are meeting all applicable dangerous goods regulatory requirements. 
Why IMDG Regulatory Compliance Is More Important Than Ever Before 
Anyone who transports DG  by vessel is required to comply with all regulations set forth by the International Maritime Organization (IMO). The International Maritime Dangerous Goods Code (IMDG Code) is an example of such regulations. This regulatory manual covers the provisions that all ships must adhere to when transporting DG. These regulations are designed to reduce the possibility of DG incidents in transportation that could result in injury to people, property and/or the environment. Therefore, it is essential that cruise ship lines do not lose sight of these very important, long-standing DG requirements as they scramble to meet new COVID-19 restrictions. 
As mentioned above, IMDG regulations are extremely important because a DG incident on a cargo and/or passenger ship, resulting from improperly prepared DG, can have a devasting impact on passengers, crew members, the ship itself and the aquatic environment! These events could range from fires to explosions to spills and more!
Remembering IMDG Dangerous Goods Requirements
That said, the cruise industry's supply chain, which was largely inactive for the past few months, needs to ensure that they are not forgetting any DG requirements as the industry wakes back up. The ships that are returning to service need to be stocked up and tuned up as they prepare for new voyages to come. It should also be noted that these cruise ships often need to stock up at every port they visit. This means that they have the potential to cause DG to be transported to ports all over the world!
As the cruise ships begin stocking back up and start restocking at various ports they call to, it is important that the people who handle these materials, as well as the people who are associated with the transportation (shippers, forwarders, carriers, etc.), are properly trained according to applicable federal and international DG regulations. 
That said, the best way to reduce the risk of a DG incidents is to make sure that each and every person who is in any way associated with the shipping/transport of DG is adequately trained and has received IMDG Certification Training. 
Online IMDG Training at Hazmat University: The Best Way to Ensure Regulatory Compliance
Hazmat University offers training courses in all modes of transportation (air, ground, and vessel) for both initial DG training and recurrent DG training. We offer online training sessions that easily allow for remote, self-paced learning that will suit you, whether you absorb information quickly or prefer to take your time. We also offer personalized instructor-led webinars. 
These online training options were already considered very appealing because of their extreme convenience and cost-effective nature. However, the entire globe is now enduring the ramifications of the COVID-19 pandemic, not just the cruise ship industry, so remote training is now more important than ever. It allows individuals to stay current with regulatory requirements, while also staying in compliance with travel restrictions and social distancing requirements.
All of our courses were developed by industry leaders with over 45 years of experience and our friendly and knowledgeable staff are just a phone call away. Call us today at (844) 532-7634 /(609) 860-0300 or contact us online to learn more about our various IMDG online hazmat training options.