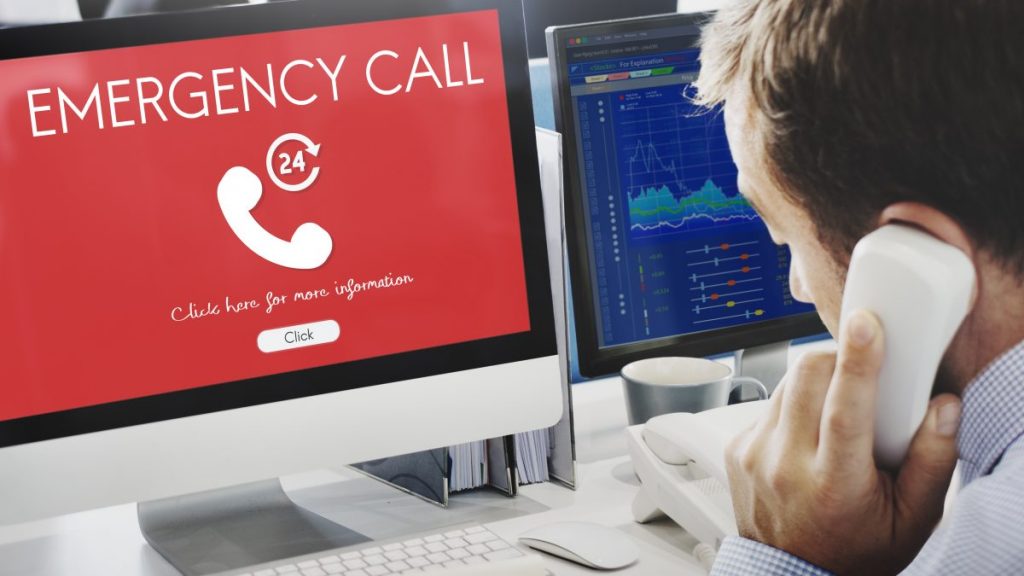 You may already know (likely from your hazmat training) that the US Hazardous Material Regulations (HMR) requires that most hazardous materials/dangerous goods shipments requiring a shipping paper display a 24-Hour Emergency Response Telephone number.
Throughout the years there have been several changes to this requirement, and it can sometimes lead to confusions. That's why we are going to address the most commonly asked questions regarding this requirement as codified in 49-CFR, Part 172.604. These same questions will be addressed in all of our online hazmat training courses.
Frequently Asked Questions About the 24-Hour ER Telephone Number
What is an ER Telephone Number?
The emergency response telephone number is a phone number from which accident mitigation and emergency response information can be obtained from someone who is highly knowledgeable about the dangerous goods or hazardous materials while being stored or being transported.
This number can be called and is available 24 hours a day, 7 days a week, 365 days a year with no interruption of service during the time which the cargo is stored and in transportation.
Why do I need an ER Telephone Number?
An emergency response telephone number is necessary for all modes of transport – railway, highway, ocean, and air – whenever a shipping paper – shipper's declaration for dangerous goods is required with a few exceptions. Hazmat employees must receive hazmat training to better understand the requirements and enforcement of the required 24-hour emergency response telephone number and any additional information required for the hazardous material shipment.
Where is this ER Telephone Number displayed?
Your 24-hour emergency response telephone number must be entered on the shipping paper in association with the hazardous material(s) description while being stored and shipped and must be easily identified. Examples of how the 24 hour emergency response telephone number and how it must be displayed on hazmat shipping papers can be found in the HAZMAT TRANSPORTATION REQUIREMENTS Training, Packaging, and Shipping Paper Guide for Transporting Hazmat.
Who is required to answer the 24-Hour Emergency Response Telephone Number, if this number is called?
Whoever is responsible for managing this 24-hour emergency response telephone number is the one who will respond. This could be a third-party company that provides emergency response information, examples of these providers are Chemtel or Chemtrec just to name a few or the shipper if the shipper is able to meet all of the requirements prescribed by 49-CFR, Part 172.604.
What information should be provided to the emergency responder when someone calls?
The emergency response information (ERI) provider must be aware of the dangerous goods being stored and transported and have complete information about that material, including incident mitigation and emergency response. [49 CFR 172.602 and 172.604]. This includes copies of the Safety data Sheets (SDS) or access to the SDS immediately.
What if I use a third-party ERI provider?
The person registered with the ERI provider must make sure this third-party has received the latest information on the dangerous goods before they are stored and offered for transportation.
If you are the shipper, you must provide the 24-hour emergency response phone number(s), your contract number, your name as the shipper which can be identified as the shipper/consignor on the shipping paper, or a unique identifier assigned by the provider. This information must be mentioned on the shipping paper immediately after, before, below, or above the 24-hour emergency response number in a clearly visible manner.
Does the ERI provider has to be US-based?
The 24-hour emergency response provider does not have to be US-based as long as the telephone number can be reached from any part of the world while it is being stored and transported.
Should I provide a Safety Data Sheet with my shipment?
If you are using the safety data sheet to fulfill your emergency response responsibilities, then you will need to provide it with your shipment. 
How do I get a 24-Hour ER Telephone Number?
Most shippers outsource this responsibility to a hazmat emergency response provider such as Canutec, Infotrac, and Chemtrec. If your organizations has a valid subscription to any of these third-party ERI providers, you can simply call them to find out your 24-hour emergency response telephone number and contract number, otherwise you will have to subscribe and pay for this service.
Learn More About Your 24-Hour Emergency Response Telephone Number and Information Requirements When Participating in Online Hazmat Training
At Hazmat University, we offer online hazmat training that will help you learn all you need to know about the 24-hour emergency response telephone number and the information required to be displayed on your shipping paper when required. This is a crucial component of hazmat training that clearly describes the requirements for emergency response and safety of the dangerous goods and their transportation. To know more, call (844) 532-7634 or (609) 860-0300 or contact us online.
Flash Sale!