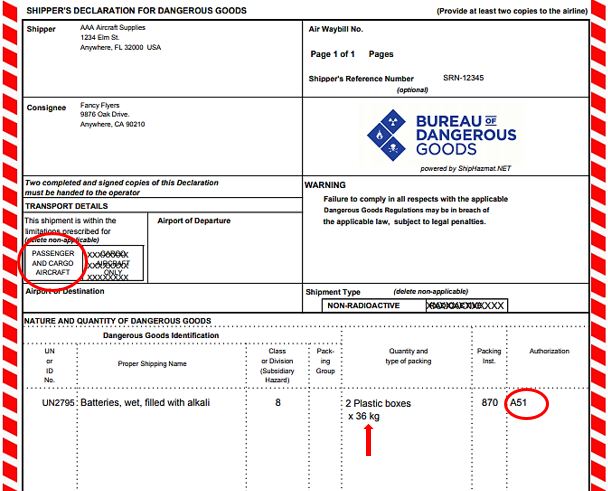 Understanding the IATA requirements
When it comes to compliance with dangerous goods regulations, a debt of gratitude is owed to the International Air Transport Association (IATA) for presenting the ICAO Technical Instructions for the Safe Transport of Dangerous Goods By Air (ICAO TI) in a user-friendly format as contained in the IATA Dangerous Goods Regulations (IATA DGR), the current publication being the 61st Edition (2020). 
The IATA DGR is used throughout the world to ensure that dangerous goods transported by air are prepared and transported safely and in compliance with the ICAO instructions and associated airline industry policies. Before we dig deeper in IATA DGR special provisions, let's get a little more context.
As the trade association of the global airline industry, IATA works with their airline partners to formulate agreed-upon industry policy and standards, including those that affect the transportation of dangerous goods.  In some instances, countries, operators or the airline industry as represented by IATA have established policies or standards regarding dangerous goods transportation which are more stringent than the ICAO TI.
Differences' which are published by countries (States) or airlines (Operators) are included in the DGR as State and Operator Variations; whereas additional requirements agreed upon by the entire IATA membership are indicated in the DGR with a distinctive pointing-finger symbol.
One requirement of the DGR that demands careful attention is IATA DGR 8.1.6.9.4(a), which specifies sixteen special provisions:
A1

A2

A4 

A5 

A51 

A81 

A88 

A99 

A130 

A190

A191

A201 

A202 

A211 

A212 

A331 
These aforementioned special provisions must be shown in the Authorizations column of the Shipper's Declaration form as applicable.  The words "as applicable" in this reference are often misinterpreted in ways that have the potential to frustrate the acceptance of a dangerous goods shipment, so we at Hazmat University would like to attempt to clear up the matter.
"As applicable" in this context does not mean "whenever shown against an entry in the Dangerous Goods List." Instead, it should be interpreted as "applied by the shipper". 
An Explanation of Special Provision A1
For example, Special Provision A1 of the DGR, when shown in Column M of the Dangerous Goods List against an entry that is forbidden for transport on passenger aircraft but permitted on cargo-only aircraft, contains provisions for that substance or article to be transported on passenger aircraft, provided that the shipper has obtained the necessary approval(s) from government authorities as specified in that special provision.  It also states that the article or substance may be carried on cargo aircraft in accordance with Columns K and L of the List of Dangerous Goods. 
In this instance, if the shipment is prepared for Cargo Aircraft Only transportation, Special Provision A1 is not applicable.  If it is the shipper's wish or need to offer the shipment for transportation by passenger aircraft, that transportation is subject to approval by the applicable authorities. 
If the shipper is successful in obtaining the required approval(s), the shipment may be offered for transportation on passenger aircraft in accordance with the provisions of Special Provision A1, which further requires that a copy of the document of approval showing quantity limitations and packing requirements must accompany the consignment.  In an instance such as this, Special Provision A1 is applicable, and must be shown in the Authorizations column, along with a statement indicating that a copy of the approval document(s) is attached to the Shipper's Declaration, as required by 8.1.6.9.4(b).  
Note: IATA DGR 1.2.5.2 reminds that acceptance of dangerous goods offered for shipment under the provisions of an approval is at the discretion of the operator concerned, and encourages shippers to make advance arrangements with the operator(s) as part of the transport planning process associated with any approval application.
Another Example of When a Special Provision Is or Is Not Applicable
Another example of a special provision that must be shown when applicable is Special Provision A51, which permits packages containing aircraft batteries (UN 2794 or UN 2795 only) to exceed the 30 kg limitation shown in Column J of the Dangerous Goods for transport by passenger aircraft, permitting packages of up to 100 kg net quantity to be transported.  As aircraft batteries are characteristically heavy, this special provision supports airline operations in facilitating movement of aircraft batteries to where they may be needed.
In looking at the List of Dangerous Goods, the entries for UN 2794 and UN 2795 indicate a per-package limit of "No Limit" when transported on cargo-only aircraft in accordance with Column L.  Therefore, in order for Special Provision to be applicable and required to be shown in the Authorizations column:
The batteries identified as UN 2794 or UN 2795 are

aircraft batteries;

The batteries are being offered for transportation on passenger aircraft;

The net quantity contained in each package(s) exceeds 30 kg.
If the batteries are being offered for transport by cargo-only aircraft, A51 is not applicable, as Column L does not limit the per-package net quantity.  Likewise, if the batteries are being offered for transportation by passenger aircraft and the net quantity per package does not exceed 30 kg, A51 is again not applicable.
A Helpful Suggestion Regarding Special Provisions
There is a note provided by IATA to 8.1.6.9.4(a), which states "Other special provisions that have been applied by the shipper may be included in the authorizations column."   Some shippers employ the unfortunate practice of including every special provision shown in Column M, whether it has been applied or not, perhaps with the notion that "more is better."  In this instance, it is not. Your operator's acceptance staff is rigorously trained in the IATA requirements and they know what they are looking for. Showing a special provision that is not applicable may cause them to question the accuracy of your information, and could result in delay or rejection.
Be Confident, Competent and Compliant Regarding Special Provisions
Nothing is more valuable than thorough and efficient training when it comes to implementing the dangerous goods regulations.  Hazmat University offers online training choices that will provide you with a better understanding of the regulatory language, as well as regulatory intent.  
Our online hazmat training courses are designed to make you confident, competent, and compliant when shipping your dangerous goods by air, ground, or sea.  Visit our courses page and browse our offerings; we're sure you'll find a course to meet your needs!