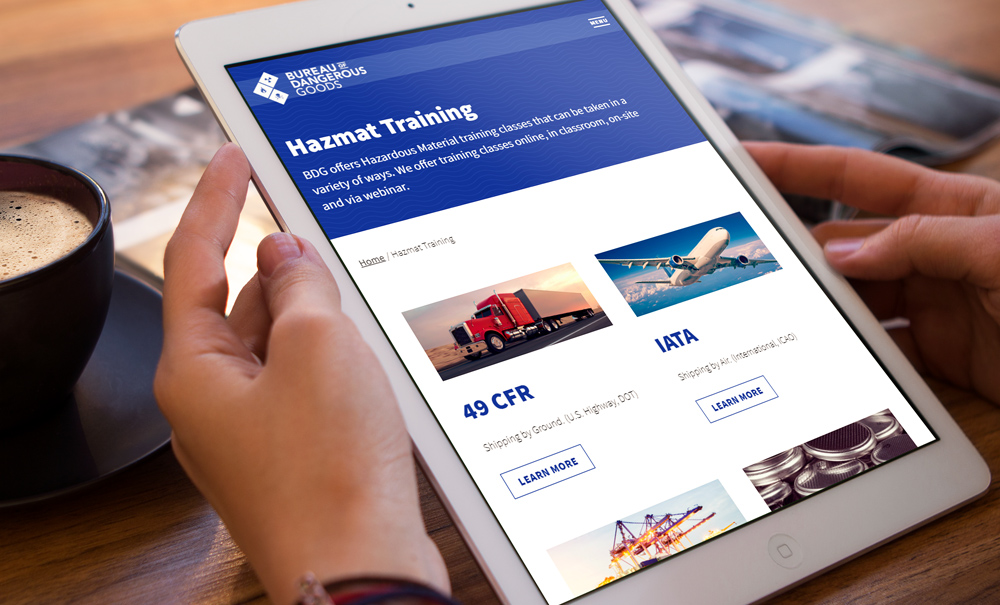 If you are planning to undergo Hazardous Materials (Hazmat) training for the first time, you might be wondering which method of hazmat training delivery you should choose. The good news is that you have a surprising amount of options to choose from when it comes to Hazmat training: classroom training, on-site training, instructor-led webinars and self-paced online training. Each delivery method of training, as you can imagine, has its own pros and cons. The bad news is that this decision can sometimes be overwhelming. 
Let's start with a walk-through of the pros and cons of each type of Hazmat Training.
Classroom Based Hazmat Training 
Pros:
Perhaps the largest appeal that comes from attending

classroom-based training

is that it gives you an opportunity to join other students and learn directly from an experienced instructor. This is considered the ideal learning environment by many. 

In this scenario, you get to pick the brains of the instructor, engage in discussions with other students, and often get a more thorough understanding of the presented material. 
Cons: 
One of the benefits of classroom training is that you physically attend the course and engage with the instructor and other students. However, this can also be considered a con, because this type of training requires you to be in attendance in the classroom. Which requires a greater time commitment and, since these courses are usually only offered on an intermittent basis, you may encounter scheduling conflicts.

These courses are usually taught in a central-location so that they are accessible by many. This means that you will likely be required to travel to attend. This, in turn, requires more of a time and monetary commitment. 

Although there is often opportunity for discussions, you really do have to learn at the pace set by the instructor. This includes the momentum with which the class is taught, the time taken to work on examples and the frequency/timing of breaks. 

As mentioned above, this type of instruction requires a qualified instructor and a good amount of planning so they are often more expensive than online training courses.  
On-site Hazmat Training
Pros: 
As far as

instructor-led training

is concerned, this is the most convenient for attendees, as the training sessions are conducted at your workplace. Not only does this not require attendees to travel, it allows for demonstrations using your own products, in your own workplace. 

As mentioned above, on-site training is highly personalized. So, the course material is tailored to the exact needs of your organization and this often makes the information easier for individuals to retain. 

Similar to the benefits of classroom-based instruction, you are afforded the luxury of learning directly from an experienced instructor and have the opportunity to collaborate with your coworkers.
Cons: 
One of the down-sides to this type of instruction is that you are required to take time out of your schedule to attend the class at a time that is convenient for your organization, the attendees and the instructor. This can easily create scheduling conflicts.  

To some extent, you are still subjected to the pace that is set by the instructor. Although on-site training is usually more flexible than traditional classroom settings in this regard.

Perhaps the biggest deterrent to this type of training is that it almost always the most expensive training option. 
Instructor-led Webinar Hazmat Training
Pros: 
This is often a great option for Hazmat training as it offers a hybrid approach that combines the benefits of instructor-led and online learning. 

When taking

instructor-led webinars

, you are taught in real-time by an experience instructor who can answer your questions along the way.

This option is often very economical and can train a large group of geographically diverse employees at one time. 

There is often the ability to tailor instructor-led webinars to ones' own business needs. 
Cons: 
Although the travel requirement is eliminated in this option, it still does require individuals to attend at a specific time. 

There is often opportunity for discussions when taking instructor-led webinars, but you still end-up having to learn at the pace set by the instructor. This includes how fast the material is presented and the scheduling of breaks.
Self-paced Online Hazmat Training
Pros: 
Arguably one of the most alluring aspects about

online training

is that it does not require you to be physically present at a particular location at a particular time. With this style of training, you can learn at any time, any place and on any device that is connected to the internet. This means that you are highly unlikely to run into scheduling conflicts.

Another perk is that this system of learning takes a lot of time and money!

Self-paced online training is self-explanatory. It's self-paced! You have the luxury of learning at your at your own convenience and speed. You get to decide if you power-through the training material at one go or break it down into small sections over a period of time – the choice is entirely yours. 

Nowadays, these courses are composed with plenty of interactive audio and video content. This increased engagement can make it easier to understand and retain information. 

Self-paced online training has an easy enrollment process and allows you to instantly download and print your certificate upon successful completion of your course- no waiting time! 
Cons: 
These courses do not always offer the same experience as classroom-based trainings as there is not a live instructor to ask clarifications in real-time and the content is often of a broader nature.

Another drawback of online courses is that it takes more research to find a reputable online training provider that offers an accurate, immersive, and interactive online training experience. 
What is the Best Way to Take Your Hazardous Materials Shipping Training? 
After reviewing the analysis above, it is easy to see that each mode of training is effective in its own way. That said, it also becomes apparent that self-paced online training and instructor-led webinar trainings stand-out as some of the best options for Hazmat training. These training options were already considered very appealing because of their extreme convenience and cost-effective nature. However, while the entire globe is enduring the ramifications of the COVID-19 pandemic, remote training is now more important than ever. It also allows individuals to stay current with regulatory requirements, while also staying in compliance with travel restrictions and social distancing requirements. 
Looking for a Reliable Online Hazmat Training Provider? 
Hazmat University offers training courses in all modes of transportation (air, ground, and vessel) for both initial Hazmat training and recurrent Hazmat training. We offer online training that easily allows for remote, self-paced learning that will suit you, whether you absorb information quickly or prefer to take your time. We also offer personalized instructor-led webinars. Our courses were developed by industry leaders with over 45 years of experience and our friendly and knowledgeable staff are just a phone call away. Call us today at (844) 532-7634 or (609) 860-0300 or contact us online.