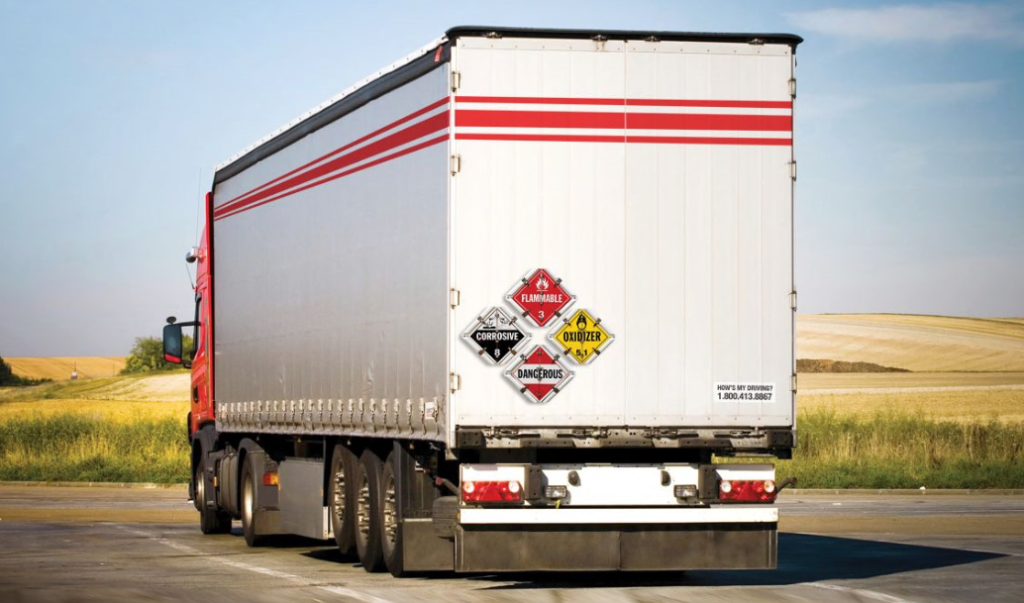 Anyone who performs a Hazardous Materials (Hazmat) transportation or pre-transportation function is required to undergo 49 CFR training, as mandated by the Department of Transportation (DOT) when handling and transporting hazardous materials in the United States and or United States territories.
The term '49 CFR' refers to Title 49 of the United States Code of Federal Regulations – which is a collection of federal regulations pertaining to transportation in the United States. 49 CFR, Subchapter C,  focusses on the domestic transportation of hazmat and is collectively known as the Hazardous Materials Regulations (HMR). Therefore, the HMR are what 49 CFR training programs are based upon. 
Objectives of 49 CFR (DOT) Training Programs
49 CFR Hazmat certification training programs are required to cover a minimum of the following information if applicable to the hazmat employee: 
Identification and classification of dangerous goods based on the risks the materials present and the criteria of the 9 hazard classes

The regulatory requirements pertaining to packing, marking, and labeling dangerous goods

Dangerous goods placarding and segregation requirements for transport vehicles

The regulatory requirements related to loading/unloading of dangerous goods

Completion of the various forms of shipping paperwork that are required to ship dangerous goods by ground, air, and ocean

The regulations pertaining to prohibited and restricted dangerous goods

Regulatory exceptions and the circumstances under which they are applicable 

The most common security hazards associated with shipping dangerous goods and applicable safety measures to take
Choosing the Right Mode of Training 
You have a surprising number of options when it comes to DOT Ground Hazmat training – instructor-led classroom training programs, onsite training programs, instructor-led webinars and self-paced online training programs. 
Among these, classroom and onsite training programs require students to be physically present at a specific place at a specific time. They also tend to come at a premium price as they require travel accommodations for either the attendees (classroom based) or the instructor (on-site). If your budget and schedule allow, you might opt for either one of these interactive options. 
Otherwise, a 49 CFR DOT shipping by ground online training program might be a better option for you, as they tend to be more economical and often offer more flexibility in scheduling. During the COVID-19 pandemic, this style of training has become an even more appropriate method of Hazmat training delivery, as it allows for compliance with both travel restrictions and social distancing requirements. 
You can sign up for an online 49 CFR DOT Shipping by Ground training program and complete it at your own pace, irrespective of where you live. With this method of training, you will be able to access course material at any time, using any smartphone, tablet, or computer that is connected to the internet. At the end of the program, you can simply download and print your certificate of completion! 
Who Needs DOT Hazmat Training? 
The HMR training requirements can be found in 49 CFR 172, Subpart H. They specify that any hazmat employee, who performs a hazardous materials transportation or pre-transportation function, requires hazmat training. 
This includes, but is not limited to, shippers, freight forwarders and anyone else involved in the supply chain of hazardous materials transportation. 
How Often Should You Undergo 49 CFR Training? 
The types of required Hazmat trainings and Hazmat training frequencies are set forth in 49 CFR 172.704. It is here that the regulations specify that employees are required to have both Initial and Recurrent Hazmat training. In the United States, once you complete your initial 49 CFR program, the certification remains valid for a three-year period, after which you need to undergo a recurrent training program. 
Although it is apparent why initial training is required. It is not always as obvious why one would need recurrent training. However, these recurrent training programs actually are a necessity as the regulations pertaining to Hazmat transportation are amended and updated constantly, therefore requiring training more often to remain compliant. So, undergoing training at regular intervals is the best way to stay current with all applicable regulatory requirements. Also, given that the HMR are a very complex set of regulations with many intricacies, it sure doesn't hurt to have your memory refreshed! 
Get Trained by The Best 49 CFR Training Provider 
Hazmat University provides online Hazmat training to help you satisfy both initial and recurrent Hazmat training requirements for all modes of transportation. If you have large numbers of employees to train, we will be happy to discuss discounted group pricing. We also offer personalized instructor-led webinars. To speak with one of our friendly and knowledgeable team members, call us at (844) 532-7634 / (609) 860-0300 or contact us online.