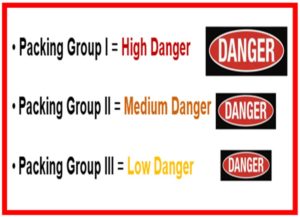 Not all hazardous materials (Hazmat) are equal in terms of the risks they pose when they enter the supply chain. Some are extremely dangerous while some others only pose a minor safety hazard. Therefore federal regulatory requirements for hazmat shipping tend to differ from one material to another – depending on the extent and nature of the hazards they present. In addition to having rote recall for these packing groups, online hazmat training is another ideal method of staying confident, competent, and compliant. 
What is the Need for Having Different Packing Groups?
Dangerous goods are broadly classified into three packing groups, based on the degree of danger they pose. As stated in Title 49 of the United States Code of Federal Regulations (49 CFR), a Packing Group means a grouping according to the degree of danger presented by hazardous materials: 
Packing group I indicates great danger 

Packing group II indicates medium danger. 

Packing group III indicates minor danger. 
Hazardous materials need to be packed, handled, and shipped according to the risks they pose. Highly corrosive substances, for instance, should not be shipped in metal packages, as they might react with the metal surface, damage the package and result in a hazmat transportation incident. Similarly, it stands to reason that a hazmat that has been classified as a packing group I would be required to be transported in a more stringent packaging than a hazmat that has been classified as a packing group II or III.
This is one of the reasons why most hazardous materials are required to be shipped in United Nations (UN) Specification Packaging; also known as Performance Oriented Packaging (POP) or Specification Packaging. These types of packages are subjected to numerous performance tests to ensure they meet minimum criteria for their package type, design and use, as specified in 49 CFR Part 178. Examples of packaging performance tests include:
Drop Testing

Stack Testing

Edge Crush Testing

Vibration Testing

Pressure Differential Testing

Leakproofness Testing
If a packaging design proves that it can withstand all the rigors of all required tests, then UN-certified manufacturers mark the outside of the packaging with a UN Specification Code, thus making the packaging an UN specification packaging.
What is the Relationship between Packing Groups and Hazmat Packaging?
The UN specification marking is an extremely important part of the hazmat transportation world. This code, depending on the type of packaging it appears on, describes that specific packaging's limitations for: packing group suitability, completed package gross weight, pressure, specific gravity, and additional special considerations. This marking also displays the country and date of manufacture, as well as the manufacturer's unique UN certification code. 
As mentioned previously, packing groups rank the degree of danger a given hazmat poses in transportation, so it stands to reason that the more dangerous a substance is (e.g. the lower the packing group), the more stringent the protective packing needs to be. UN Specification codes have an assigned signifier to indicate a package's packing group suitability, as follows:
An X rating indicates suitability for packing groups I, II, & III. This represents the most stringent packaging.

A Y rating indicates suitability for packing groups II & III. This represents a medium level of packaging stringency.

A Z rating indicates suitability for packing group III only. This represents the least stringent packaging. 
In addition, packing groups almost always dictate the maximum quantity of given hazmat that is permitted to be shipped; and often also dictate which modes of transportation are permissible. 
After a brief introduction into hazmat packing groups and packings, it is easy to see that there are a lot of regulatory nuances that govern hazardous materials shipments. This is all for good reason, the aim of the Hazardous Materials Regulations (HMR) is to ensure safe and compliant transportation of materials that are proven to have an unreasonable risk in transportation. One of the ways the HMR help ensure that Hazardous Materials  are shipped safely, is the regulations mandate that every hazmat employee receives both initial and recurrent hazmat training.
Why Online Hazmat Training is Needed
It is extremely important to understand the relationship between packing groups, packagings and permissible quantities, when shipping hazmat by ground, air, or vessel. If a hazmat that has been assigned as a packing group I, is accidently shipped in a packaging that is only rated to contain a packing group III material could result in a fine or accident. Or, if a hazmat shipper is unfamiliar with quantity limitations and they offer a hazmat rated to the packing group I level, in a quantity that is only permissible at the packing group III level, the results of an incident could result in environmental and property contamination, illness or even death of those exposed to the material. 
This is why any individual who performs any hazmat function – from shippers to freight forwarders, contractors and subcontractors– must have the proper hazmat training at regular intervals. 
In this time of increased social distancing, online hazmat training courses have become even more critical to maintaining transportation compliance. That is why, even amidst the COVID-19 crisis, we stand ready to provide essential online training options for hazmat employees on the frontlines of the supply chain. For a limited time, all online hazmat training options are available 24/7 at a 40% discount, with free technical support through December 2020.
Choose the Right Online Hazmat Training Provider
Need help selecting the right online hazmat training course for your training needs? Our courses combine lessons containing the latest regulatory information with interactive exercises and quizzes to facilitate compliance with regulatory training requirements. Call us at (844) 532-7634 / (609) 860-0300 or contact us online, and we'll be glad to help you!  
At Hazmat University, you can sign up for an online hazmat training program, which can teach you how to identify hazmat and show you how to understand the relationship between packaging groups, packagings and quantity/modal limitations– and a host of other hazmat shipping news and information.